This is my One-Click-Tool
Competition-Zipper
For all racers in a competition who must send
their Track, Screen and Savegame at the end,
this tool will find these files and make a zip of it.
The files are renamed with infos found in savegame/track.
Copy Comp_zipper.exe in your GeneRally main directory,
Zip files are found in directory \zip, which is created automaticaly.
You can deselect files, which may not be packed.
Screens can be packed as bmp or jpg.
You can change zip filename in the textbox.
The program looks for your last saved screen and savegame.
Information (Track, Driver, Besttime) are read out of track/savegame.
I made several test and it seems to work fine.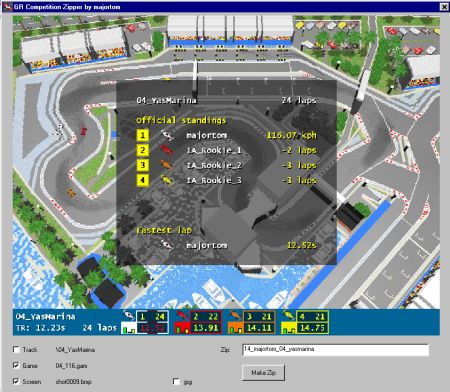 Update:
Working with GR 1.05, 1.10, 1.2c
You can define the names of saved files in your own way.
Look at help file in the pack or ask.
Example: Special settings for GRC Round 14:
Track = 0
Game = 1
Screen = 1
bmp/jpg = 0
text = 14
TextPos = 1
trackname = 2
drivername = 3
time/kmh = 0
Result: 14_Track_Driver.zip, 14_Track_Driver.gam, 14_Track_Driver.bmp
Use this program in your competition packs for free